Hotspot in Watergraafsmeer
A new concept store on the Linnaeusstraat in East. Opposite the Manor hotel is All the luck in the world. There are already three stores under this name, of which only the shop on the Middenweg also has an eatery. Karma karma karma chameleon … it sounds through the store. I quickly go inside, because I love the eighties!
Store
You enter through the café. Vintage tables and chairs are paired cosily in front of the shop. A white glossy floor and a fresh look. They mainly sell vintage-like stuff, but there is also a private All the luck in the world-jewelry line. On the website All the luck in the world, you can also buy the beautiful earrings and necklaces. Lamps, sofas, tables, wardrobes, pots and pans are all put together in beautiful setups. And the nice 80's-music fills the space.
Café
At the counter all the cakes that are sold are showcased. They look great. Red velvet, carrot cake and chocolate cake next to energy bars and cake slices. Hard to choose, but the barista recommends the cake to me. And indeed, the red velvet is great! Personally I find the coffee a little weak. You can also have breakfast with muesli or other goodies. There is a very small outdoor terrace with two chairs. Where you find yourself in the middle of East where you can watch people passing by and feel the hustle and bustle of the city. But when the sun is shining, it is nice that there is also an outdoor space.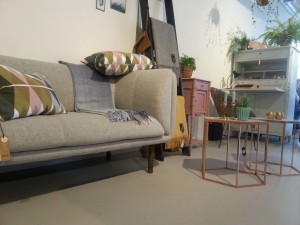 Do you also want to visit the vintage store? Then go to Linnaeusstraat 20. You can visit the website of All the luck in the world to browse and buy stuff. You can also gain inspiration for your home or garden, in the nice blog by Jane. It is, after all, a concept store.
Photocredits: Hanneke Sloof