Celebrate the liberation together
On Thursday the 5th of May there are street dinners in Amsterdam. At five different spots in the city you can dine outside with local residents. A great and binding initiative that I wholeheartedly support! On behalf of Querido and together with the Badhuistheater my neighbor Alan organizes the street dinner at the Boerhaaveplein. But what is the idea behind these street dinners?
About StreetDinners
Foundation StreetDinners is an initiative of Bite Me Conceptual Food Lab. With Foundation StreetDinners Bite Me promotes the binding power of food. The power of cooking together, festive toasting and telling each other street stories at the dinner table. Once you've experienced the binding power of a street dinner in the neighborhood, you will recognize the potential of what can become an annual tradition. The street dinner as a concept in the street, the city, the country and the world. (Source: streetdinners.org)
Street dinner Boerhaaveplein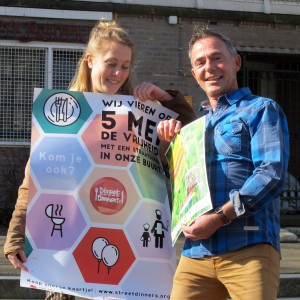 The street dinner at the Boerhaaveplein is arranged by two fine organisations: HVO-Querido and the Badhuis Theater. They both make Amsterdam a little warmer. HVO-Querido offers Amsterdammers with problems the help they need to be able to move forward, while the Badhuistheater provides a home for many different art forms. Together they will organize a dinner that not only fills the stomach, but the heart as well.
The meal is prepared by local residents and refugees from the Mauritskade shelter, who will tell about Syrian cultural traditions over dinner. (Source: 4en5meiamsterdam.nl)
Stories and drawings
During this gathering there is also room for stories from local residents who,  in the build-up to May 5th, are coached by professional storytellers. They have the guts to enter the stage and share their personal story regarding the theme 'On the Border' with the neighborhood.
Are you curious about how children see freedom and borders? During dinner the Boerhaaveplein will be decorated with their drawings.
More information
Tickets: €7,- adults, €4,- kids, €1,- city pass holders with a low income.