Healthy hotspot: Ninour
As hotspot-spotter I am crazy about small new shops. Because you often treated friendly and personal, because the owners often tell with love and passion about the products they make/sell, because you often find unique items. Ninour in De Pijp is one of those small shops. Not quite new, but still a hidden gem and a place where you can have lunch and go shopping.

Pink
Upon entering, you first come in a light shop. Here Ninour sells vintage clothing, beautiful jewelry and nice decoration items. Last week I came home with Silver earrings and for a girlfriend I bought a great ring. But I also have seen nice water glasses and candles I gladly would gladly put on my wish list. Items owner Nina collects from around the world. In the back of the shop you will find the lounge/dining area of Ninour. What you can't miss is the bright pink wall! Super cheerful and something different than those brick walls you see at a lot off trendy hotspots in Amsterdam.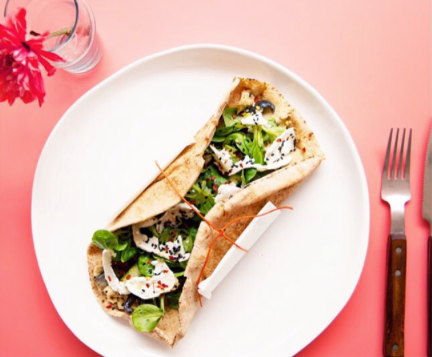 Moroccan touch
Owner Abdenour (partner of Nina) is responsible for the lunch menu. By the way, one that will make you mouth water. Here you can find dishes with a Moroccan touch. Healthy, vegetarian, without added sugars and, where possible, organic and locally produced. For example, try the 'coco-ban-cakes': spelt pancakes made with coconut milk, banana, poppy seeds and orange blossom. Served with fresh topping. Or go for the ' black is the new orange ': a lentil salad with yellow pepper, pomegranate, cilantro, carrot and goat cheese. My favorite, however, is the "picture me rollin' dish: Lebanese bread with hummus, grilled vegetables, truffle oil and goat cheese. Sooo tasty!
You see: Ninour is perfect for a lunch and a little shopping: for yourself or if you are looking for a gift. At Body and Mind, we are completely fan!
Adress:
Ninour
Eerste Jan Steenstraat 109
Amsterdam
www.ninour.nl