Cooking with Papa Kazmi
Although I regularly eat out for my job, I really like to cook. Already during my college years I left the simple pasta behind, to practice on the latest risotto variant. In a cookbook I had read something about a risotto with beetroot and then I would try something out. And fortunately most of the times it worked out well!
Now, a few years later, I still enjoy to mess around in the kitchen. But fair enough: it often remains a bit with the same dishes over and over again. So therefore it's time to pick up a cookbook to get ideas! And let Papa Kazmi just published a cookbook.
Papa Kaz-who?
Papa Kazmi is the owner of hotspot Hills & Mills in Delft. A restaurant where everything is about pure food. All the dishes are homemade, prepared with fresh ingredients and form a unique combination of traditional Indian and European food. Healthy and súper tasty. Although I really want to recommend you to travel to Delft to try these delicacies, you can also try some at home. Because Papa Kazmi has written a cookbook!
He shares great recipes in this cookbook, but you'll also learn more about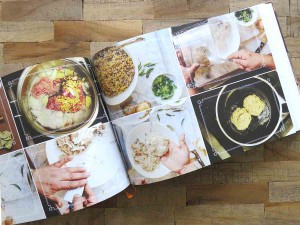 Papa, his children and the company. Very nice to read, also thanks to the nice writing style and jokes in between. And also the book looks awesome with lots of pictures of the dishes. But above all, you just like to try everything that is in the book. How nice is it to make, for example, your own Naan or Chicken Pilav. I would also like to try out the Lentil Soup, with Indian touch. And the Veggie Shami Kebab looks really mouth watering. For dessert I go for the Carrot Cake with orange and lime. Although the Raw Cocoa Bar looks very delicious as well…
As you can see: I already can't choose. Not weird, with as many as 80 different dishes to choose from. I'm going to surprise my love tonigh with a new dish and I would like to thank Papa Kazmi for this nice book!