Amsterdam Roots Open Air
This summer there is already the 19th edition of Amsterdam Roots Festival. A vibrant festival with music from all over the world. From June 30 the Roots Indoor concerts in theaters as Melkweg, Tolhuistuin, Bimhuis and North Sea Jazz Club.
Sunday 3 July the free of charge open air festival Roots Open Air takes place in the Oosterpark! with a surprisingly international music program, workshops, children's activities and the in the meantime famous, Roots Bazaar!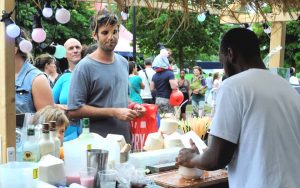 The Oosterpark is the ultimate park for a music festival that is full of extraordinary sounds, stimulating smells and exotic flavors. Colorful stalls, (food) trucks, caravans and tents will also this year be the beloved addition to the Roots festival decor. The Roots Bazaar offers original, often handmade products from around the world – from Japan to Chile to Purmerend. With beautiful and honest products. In case of sale of non-food, they look at origin, fair trade and the environment-and people-friendly production of the products.
Music of the world
On the festival there will be surprising scoops, legendary groups, music from ' the middle of nowhere ', local heroes from around the corner, voices that should be heard, sounds that you won't want to miss…
Local Heroes and rappers in the diaspora
Of course, the Amsterdam Roots Festival gives this year again a stage for young, local talent under the heading Local Heroes. In addition to a cheerful mix of young dance groups from Amsterdam-Zuidoost, Singer Meru will set the ball rolling with her English-and Spanish-language R & B, soul and hip-hop on the Urban Stage.
Kids
This year Roots organized with extra care a very special children's programme. All afternoon children can getting started with dans- en percussieworkshops or do a lot of painting, make African toys or eat Moroccan soup at the ZieZo Marokko-bus of the Tropenmuseum Junior. Children's magazine SamSam is looking for young reporters to interview artists and to cover the festival. And especially for the Roots kids: a children's performance with Kasba and acteur Karim El Guennouni.
See here the timetable of the Roots Open Air program!
(Source: https://amsterdamroots.nl/)
Photo credits: Facebook/Amsterdam Roots