Finding peace in city nature
Having grown up in the woods of Bennekom where you can walk for hours, I'm always looking for places with trees and quiet in Amsterdam. You think that is impossible? "That's secretly possible almost everywhere" Parool reports (11-11-2015). "Leave the beaten tracks, avoid the main routes and you realize that Amsterdam is growing madly, but that the quiet is rarely more than two blocks away."
Conscious searching
If you search thoroughly, you find these places in no-time. After crossing the busiest streets, it's often quiet again. Acoustically speaking is the presence of trees and bushes important. An old tree emanates peace just by looking at it, and when you realize they sometimes have been there since a hundred years, it can give you the feeling of eternity.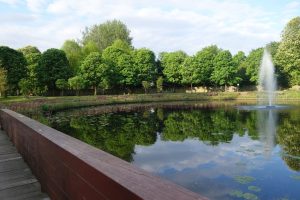 Fortunately there are many parks in Amsterdam, of which Het Amsterdamse Bos ( the Amsterdam Forest) is the biggest. If the wind is right and there aren't too many airplanes flying over, you can explore the forest in peace and sometimes you don't come across a single human being. You can really imagine yourself in the middle of nature.
My favorite park is the Amstelpark. There are beautiful landscaped gardens, the Rosarium and the Orangerie. Besides the Amstelpark's beautiful nature, where by the way the IVN Amsterdam gives great tours, lovers of culture and photography can enjoy themselves here. When you go to the rhododendron valley in April, the bushes are flourishing, but also later in the year you can find blooming bushes.
In the city
Also outside the parks there are plenty of quiet spots in Amsterdam. There are courtyards in the city center for instance, there are the indoor gardens of large apartment blocks, and along the Amstel river or in Betondorp you feel a true village atmosphere.
Marked walk
If you don't want to walk alone, you can do a silence walk in groups. Stadsforum offers marked silence walks for those who are interested. You can contact them via info@stad-forum.nl.