Artist and yoga lover
Wies Galjaard, one of the artists of Yoga-Art, is since a few years' artist and yoga enthusiast. After years of making many trips she settled down in Amsterdam. She started for herself, initially as a masseuse and as hand analyst, what she did with great pleasure for years. Until she discovered what she somewhere already knew. She wanted to create beautiful things! Bring color into the world. And she does, full of dedication, for who it appeals and wants to enjoy it. Art is Expression!
Ashtanga yoga
Wies came in contact with yoga because she met people who were crazy about it. In first instance, she became restless of yoga, she was used to sport fanatically. After trying different types of yoga, she discovered Ashtanga yoga, witch suited her. This caused that she regularly went to yoga schools, which also increased her enthusiasm for other forms of yoga.
Wies Galjaard: passion for art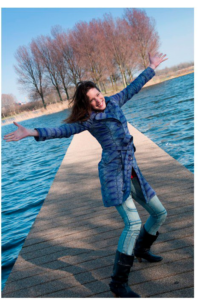 Wies expresses her passion for art as follow: "art is a way to give shape to what lives in me and what I want to show the world. I'm a self-taught artist and love to explore and experience. With my paintings I highlight the different aspects of life. In it I interweave much symbolism and themes as admissibility, surrender, connection, the will to fight strongly and vulnerability.
Art on wood
The new project of Wies is called "Go Rebel!"  (English site). Here Wies combines new techniques (such as a bridge between the world of the painter and the digital world) with a "Yoga-Yut" line. Yoga poses on wood.
Wies: "I've noticed that I find it extremely fun to work on wood, especially on old wood. That really lives for me when. I look at it and then I already see, before my eyes, what I want to make out of it. I love to collect beautiful wood and to create something from it. I definitely want continue with this. I have a small collection now but there definitely will be more, I have got some really nice plans in mind."
Photo credits: Yoga-art.