Creative breeding ground Cafe de Ceuvel
In the industrial, raw Amsterdam North you'll find awesome hotspots. From second hand stores in large sheds to a town beach and creative grounds. I regularly take the small ferry to the other side, to get a bite to eat, have a drink or go shopping. And I especially like to visit Café de Ceuvel. One of my favorite places.
Cafe de Ceuvel is built on a former shipyard at the water. You won't be suprised to hear that the Ceuvel is the perfect summer spot! But what makes this place really special (and therefore fitting to Body and Mind Amsterdam) is that it tries to be as self-sufficient as possible. Here everything is about sustainability. Soon they have solar panels on the roof (or maybe they are already there?). Kitchen waste is fermented into biogas for cooking. And from urine re-use of nutrients for the fruit trees and the greenhouse on the roof! But the café is also built with recycled materials. Great, isn't it?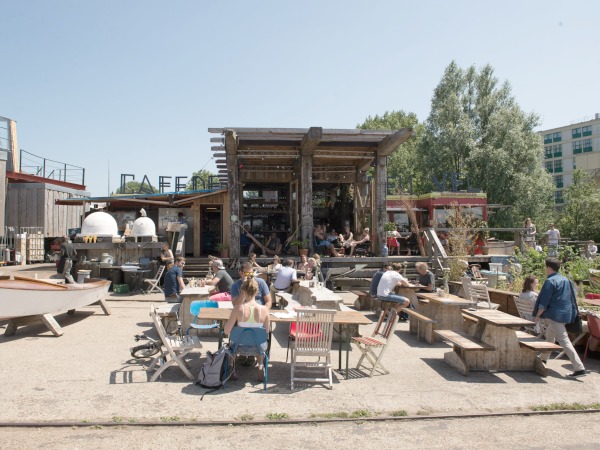 Food & drinks
Of course, the search for sustainability is also extended to the menu. Starting from lunch until the late hours they serve delicious, surprising dishes which are also good for our planet. Pretty much everything is organic, but they also constantly search for products that are environmentally sound. And in this way with the least possible pollution for the environment. What to think of an oyster mushroom croquette with salad (yummy!) or a Dutch Weed Burger with homemade potato chips. Or try the Dumpster Dish: made with fresh market vegetables that they have managed to save from the trash bin. And I can tell you: very, very delicious! Also nice: the 'Farm to Table menu' which is cooked with fresh products from the farm and of the season.
But there is more!
Iin the evening, Cafe de Ceuvel offers a stage for musicians, artists, theatre and film makers. Keep an eye on the Facebook page, for all of the pleasant events!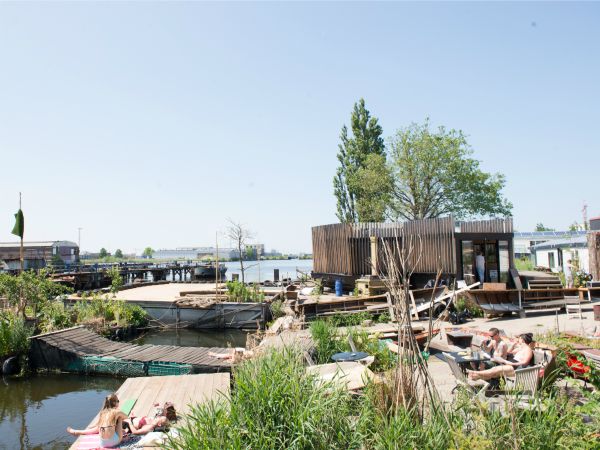 Adress
Cafe de Ceuvel
Korte Papaverweg 4
www.cafedeceuvel.nl
Photo credits: Jasper de Waal