Art in yoga studios
It's now almost impossible to imagine an interior without a Buddha statue, but where is the yoga art? Time for a change! The meditative nature of art and the art of yoga united in a new project: Yoga-Art. Initiator Jennifer Schregel recently organized the first Yoga-art exhibition with art- and yoga workshops in Amsterdam West. Together with editor Hanneke I paid a visit!
Artists involved
During the exhibition there was art to see and buy, made by enthusiastic artists who see in yoga a source of inspiration:
o Maurice van der Meijs (photos)
o Jurjen Fontein (paintings)
o Wies Galjaard (paintings)
o Joop Koopman (statues)
o Helena Schotman (paintings)
Painting together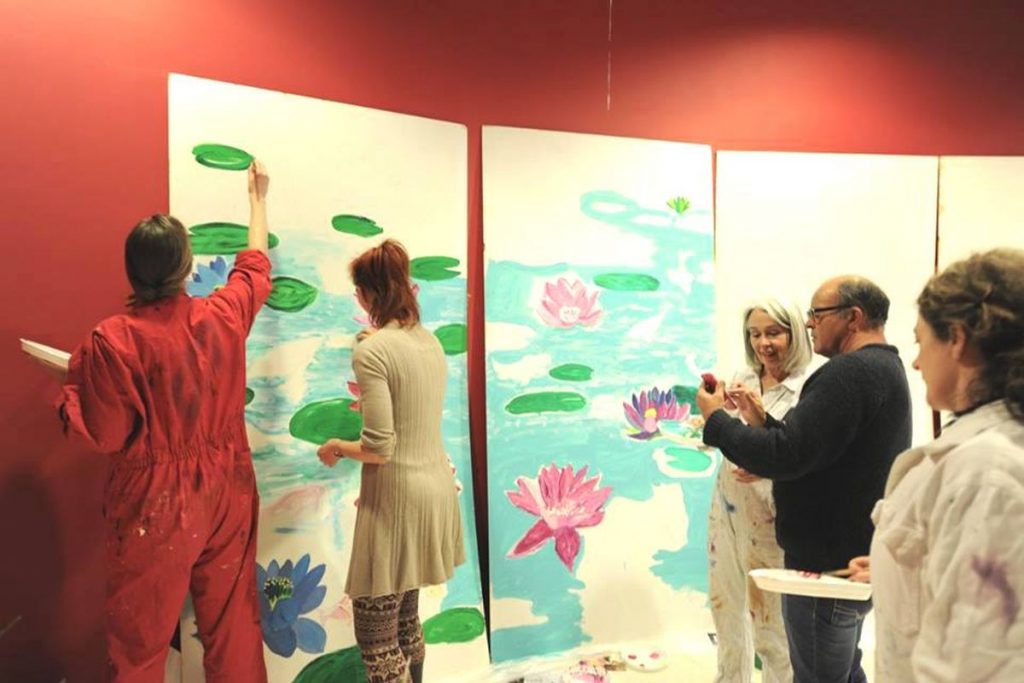 Jurjen Fountain  – www.artevent.nl gave the painting workshop. First the people were hoisted in overalls and after a brief introduction they began with painting. To make it easier for the group of painters, Jurjen had already made, as a basic, drawings with pencil on full length sheets. The intention was to make a painting with several people.
Hanneke chose to paint water lilies and koi carps. Jurjen had laid out a selection of images, the group could use these to gain inspiration about color and manners of painting. Though you could not compare the results with a Monet, the images helped. Hanneke enjoyed playing with colors and experienced the workshop as soothing and nice.
With pleasure I participated the energizing yoga workshop. The lesson was expertly accompanied by Vin Millarson!
By the way the vegan snacks from Joriscious catering were to feast! All in all, an event worth repeating.
Do you want to know more about the art of Yoga-Art? The site has a webshop where you can buy yoga art, starting at € 65,00! The webshop webshop offers a unique collection of sculptures, paintings, watercolors and pictures of yoga poses.
Photocredits: Yoga-Art