Statues of Burgundian women
Joop (1952) makes ceramic sculptures for indoor and outdoor use. The ceramic sculptures are frost resistant and can therefore stay outside summer and winter
Relatively late for Joop came the time that he could fulfill a long-held wish: artist. In 2001 he opened his Studio. He quickly acquired a place in the art circuit with its striking and very own ceramic images. In the years 60/70 he attended the study at the Pedagogical Academy in Beverwijk.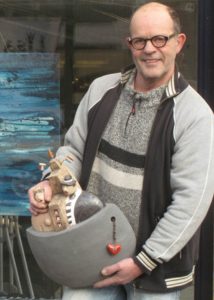 In the 1980s he studied at the Academy of Visual Arts in Amsterdam. After more than 25 years in education, first as primary school teacher and then teacher manual skills in secondary education, he became in 2001 a full-time artist. Initially he created very abstracted female figures, but gradually he went more figurative. At the Academy he developed a fascination for fertility goddesses. Later, this became more contemporary Burgundian types. His goal was not to create female figures. For him it was important that the enormous tension coming from the smooth curved lines of the strongly magnified forms come forward.
Burgundian yoga statues
5 years ago Joop came in contact with yoga. The yoga itself appealed to him. The elegant poses directly inspired him. This inspiration he has expressed in his series yoga statues. A selection of ceramic yoga statues is also cast in bronze. In the yoga statues of Joop once again his preference for the round women shape are expressed.
Sculptures and structures
Joop doesn't really studies the details, he deals with the forms. His interest goes out to the sculptural side of ceramics. He builds his statues on with rings. He brings structure with a saw and the raw traces he strikes back with a flat spoon. But the structure that the clay makes itself during the creation he finds the most beautiful. This you cannot make with your hands or with tools. Then a lot happens without having any influents yourself. This is the great thing about working with clay, according to Joop.
Would you like to see more of his work, check here.