Edible Garden in Artis
What could be more fun than on a day off to go to the Zoo? There is plenty to do for everyone. The sounds of howling wolves and screeching parrots you already hear when you go through the gate at Artis. But at first you will see the camels and donkeys on your left in the meadow. Walking through the parrots Avenue – which formerly housed parrots on a stick on both sides of the Avenue – you will reach the Monkeys rock. Artis Natura Magistra, the oldest Zoo in Europe set up by citizens. It's worth to give it a go (again), because in addition to the animals there are the stately old trees and for the second year there is the beautiful edible garden!
Love and care 
In a world in which a fragile relationship exists between man and nature, Artis wants to stimulate love and care for nature and grow into the leading institute in this field. Since last year Artis carries its vision even sharper: now you can buy drinks and food, especially organic materials are reused and the animals get food from the 'edible garden'. Everything in the garden is edible. Sometimes the leaves are edible, the flower or the roots of the plant. In that way different animals learn in a loving way to eat new things. At first they find herbs and other types of vegetables not as tasty. The caretakers keep track on what is been eaten from the edible garden and what they start to like.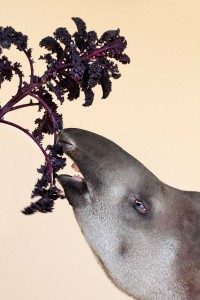 The two Cheetah's
In restaurant the two Cheetah's you can now gets organic hamburger, and also delicious oyster mushroom croquettes and fresh fruit juices. Along with a paper cone of fries (freshly made from real potatoes) this is a healthy treat for the whole family.
Artis opening hours: every day from 9 am to 5 pm. For more information go to their website.
Would you like to enjoy a day out with the whole family: in April you can see the beautiful flower garden in Artis and in summer the new edible garden!
Photocredits Edible garden Henri Vial
Photocredits Tapir Artis/Ronald van Weeren