Shop for creatives
At the beautiful Kastanjeplein located near the beautiful Oosterpark, I worked a few years ago for a creative festival, organized by the shop handmade Heaven. There I got to know owner Twirre van Kraaijenoord. After being at the beautiful square for more than eight years her shop is now located on the Middenweg 31 in Amsterdam Oost. And recently, they celebrated their 10th anniversary!
New store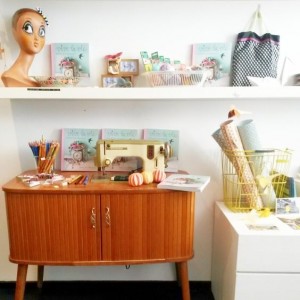 In this new building you will find an extensive collection of materials to be creative with. There are also all kinds of fun, sustainable gifts and books on creative activities.
They also do workshops and courses on a regular base at Handmade Heaven. Twirre has a comprehensive creative background, she is  a interior stylist and a set designer. She guarantees an expert advice and knowledge of materials. And also the whole team is super friendly and helpful.
Kids crafts club
On the Wednesday afternoon there is the arts and crafts club for kids, under the name 'Club creative'. Children from the area come there to further develop their creative talents. Club Creative start at 2 till 5pm. The costs are € 5. It's also possible to organise a kids party with fun creative activities for children from 5 years at Handmade Heaven. Fun for a creative birthday!
Wide range
There is also plenty of supplies for adults. There are several kinds of knitting and crochet yarn in beautiful colours and matching pens. But also textile and porcelain paint and what about fabrics from Japan! And: do you have a sewing machine, but you don't know how it works? Book Twirre for an hour instruction of 'Me and my sewing machine' and you will get the hang of it in no-time!
Sale on Sunday
Every last Sunday of the month the craftstore of Twirre is open from 12:00 to 5pm!
For all the creatives outthere; check for more inspiration, ideas and agenda  Handmade Heaven!
Photocredits Handmade Heaven