Healthy cocktail hour
When the sun is high in the sky, we feel the need for a cocktail hour. Mmm, tasty Margaritas or Pina Coladas. But if you are on a healthy drive, it is better to drink cocktails without alcohol. But how do you make these? Let's see and go make the most delicious virgins and mocktails.
Cocktails made from fruits
From fruit you can make delicious cocktails! A number of web sites can help you:
cocktailicious.nl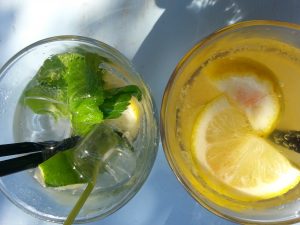 . For the true cocktail lovers. Here you will find virgin recipes, tips and tools for creating cocktails, cocktail bars and a blog about cocktails. With really great pictures of Mojito Granate and Nada Colada, mouthwatering. A very inspiring site! On cottonandcream.nl you can also find 5 delicious recipes. Healthy, fresh and fruity. A nice cheerful site by Marlieke Koks. Cotton & Cream is the first Dutch online place where fashion and food come together.
Frozen Margarita Recipe
o 40 ml sugar syrup
o 30 ml lemon juice
o 30 ml lime juice
o 30 ml orange juice
o Handful of ice
Add all ingredients in a blender. Blend everything together to an almost smooth mass. You can garnish your glass with a salt and a slice of lime. Enjoy! (source: Aha! )
Where in Amsterdam?
Of course in Amsterdam there are hotspots where you can drink healthy cocktails. Below some of the trendiest spots:
o Veggie cocktails you can drink at Lavinia Goodfood on the Kerkstraat 167. Read more about this hot spot in the blog by Ellis.
O NJOY Cocktailbar on the Korte Leidsedwarsstraat 93. Here they serve high quality cocktails without alcohol called Untouchables.
o Bar Brasserie Occo on the Keizersgracht 384 serves their own VirGIN. With homemade non-alcoholic gin. This homegrown drink based on alcohol-free wine, Juniper, cardamom, szechuan pepper and citrus is very tasteful!
o In Studio K on the Timorplein serves waitress Isabel on request mocktais as Mochito and Sex on the beach. Wonderfully refreshing on a summer day.
Do you know another cocktail bar where you can drink cocktails, let us know? We are curious about new cool bars with healthy appearance!
Photo credits Aha.Radio2.be/Hanneke Saha